One of the most common phrases a new mother hears – from the in-laws, older friends, total strangers at the grocery store – is "it goes so fast." It may not be exactly what you want to hear with a screaming baby in aisle 7, but it is true.
One of the best ways to help preserve memories and keep friends and family updated on all your baby's new tricks, is to create a website.
"Um…hello, I have a new baby…I don't have time to create a website!" I know, it sounds crazy, but with the proliferation of easy-to-use website builders, it is now quicker and easier than ever to create your own website.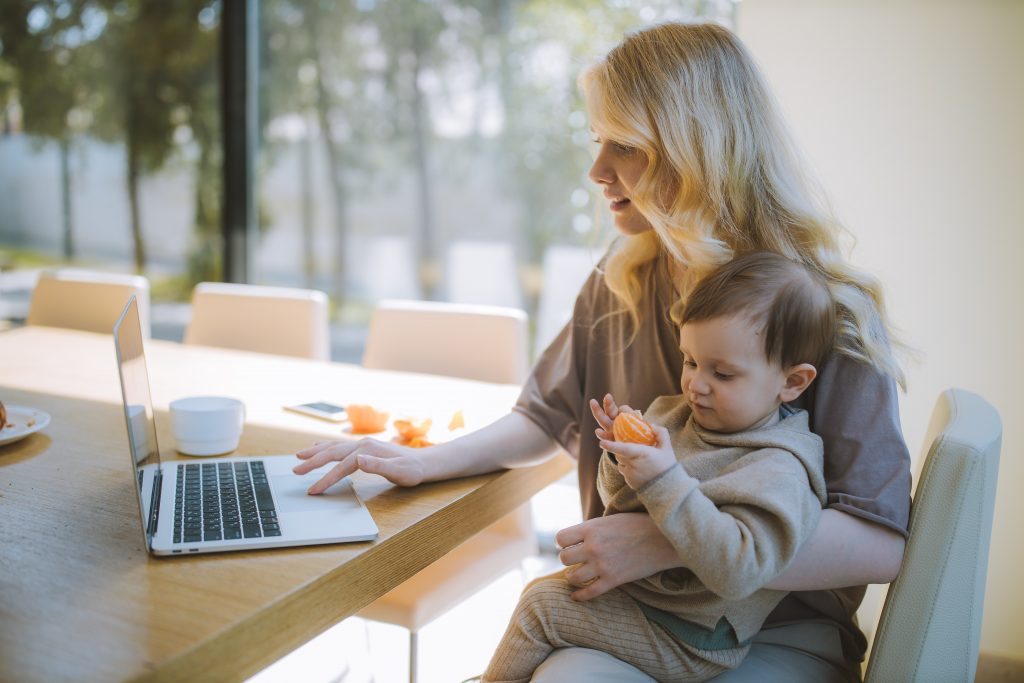 Whether you want a website to serve mostly as a digital baby book, a place to write and reflect, or are interested in starting a new baby business, there is a website builder to meet your needs.
Most website builders offer a basic platform for free with options to pay for features like no ads, custom domain names and more storage. Below is a rundown of some of the most popular website builders on the market.
Weebly
With fewer options, Weebly is very easy to navigate, especially for users who might be less technically inclined. Weebly makes users to move and rearrange site elements in blocks so it is not quite as customizable or flexible as Wix. However, Weebly does allow users to create an unlimited amount of pages (or sublevels). If you are looking to create a large website or one with lots of different pages, Weebly is a great option.
Weebly offers several affordable paid plans if you are looking to get more serious with your website. Their paid plans allow you to have own domain name, eliminate ads, provide more analytics and ecommerce options, among other capabilities.
Wix
There is a reason why Wix is one of the most popular website builders. Wix offers an intuitive platform to get you up and running quickly. Wix's hundreds of different templates to choose are neatly organized into categories like health and wellness, photography and blogging. They have unlimited fonts and fun free features like animation, video backgrounds and zoom-in scrolling. Wix offers a handy site history feature and universal undo button so you can never really "break" your site or lose your work.
Wix is constantly updating its gadgets but does have a couple of negatives. It does not allow you to switch templates so choose wisely! Also, does not allow for unlimited storage so if you are planning to upload endless photos and videos of your little one, you might be prompted to upgrade to a paid plan.
WordPress
WordPress is not quite as intuitive as Wix or Weebly but is still quite user friendly once you get going. WordPress provides all the functionality of other site builders, has thousands of themes to choose from, and allows you to change themes. If you are hoping to do a fair bit of blogging on your site, WordPress is a good option as it tends to be popular among writers and bloggers.
WordPress does allow for customization, but it can be difficult for a novice website builder to navigate some of the website design features. If you're looking for a site with all the bells and whistles, (like plugins, widgets and domain name) you'll likely have to upgrade to a paid plan.
Duda
Duda was founded in 2008 when iPhones exploded into the market and have come to be known for their responsiveness. (Meaning your website will look great whether at a computer or on the go.) Duda is also has a variety of customizable templates to choose and tends to be popular among designers and design agencies. Duda is user-friendly allowing you to get your website up and running quickly. Duda also has a unique multi-lingual feature which might be a necessary option for your family.
The biggest downside to Duda is that there is no free plan. You do get a 30-day free trial but after that, you'll have to sign up for one of their paid plans which start at $14 per month.
Squarespace
Like Duda, Squarespace is a solid website builder but does not offer a free basic option. However, Squarespace does have hundreds of templates, tools and add-ons as well a fairly robust photo editor. The $12 a month basic plan also gives you unlimited storage, your own domain and a responsive customer support team.
Squarespace is another blog-friendly website builder. They have a multi-author/contributor feature, allow you to schedule posts, and sync to all your social media accounts.
GoDaddy
If you are really looking for a basic no-frills website, GoDaddy is your best option. GoDaddy is mostly known for registering domain names and website hosting. Their website builder may have been a bit of an after-thought and kind of feels that way. There are a variety of professional looking templates, but they only offer limited customization. If you're really just looking fill-in-the-blank type experience and not looking to play around with design, GoDaddy is a good option.
You can create your website for free but for added features, including your own domain, you'll have to upgrade to a paid plan.
Shopify
If you're new baby has you inspired to create new revenue streams, Shopify is a commerce-focused website builder perfect for budding "mamapreneurs." Shopify caters to showcasing products and sales details. It's easy to navigate and will guide you through the process of setting up your shop, counting inventory, organizing customers information, as well as navigating tax and shipping details. Their 24/7 support team is also a great feature especially for new business owners.
Shopify is a bit more costly to run with their basic plan starting at $29 per month.
Building a website is not as difficult or time-consuming as you might think. Even with the demands and cost of a new baby, you can get a new website up and running during the next naptime. Having a place to share all the exciting firsts and adorable photos can help you feel connected and confident that you've captured each moment. And who knows, you might just find a new hobby you love or potential new business idea.