Being a new parent is exhilarating. And exhausting. And overwhelming. There is so much to learn about things you thought you already knew — like sleeping, eating, and pooping. And the gear! There is so much baby gear. How do you know what you actually need and what you'll probably never use? Do you need the swing and the bouncer?
Maybe. Or maybe not. It depends on your baby. (Doesn't all baby advice seem to boil down to this helpful advice?)
One thing you can be sure of is that you'll definitely need baby wipes. But even this fairly straightforward need can be complicated. With so many brands, making so many different claims, it's hard to know which are best.
This guide is designed to give you all you need to know to make the best choice for you and your baby.
Not all baby wipes are the same.
It may seem like a wipe is a wipe, but all it takes is one messy diaper, in a most inconvenient place, to realize not all wipes are alike. There are tons of different brands, sizes, and types of baby wipes to choose from. As a new parent, you might find it to be too many. But if you understand how they differ, and what to look for, you'll find the best wipes for you and your baby.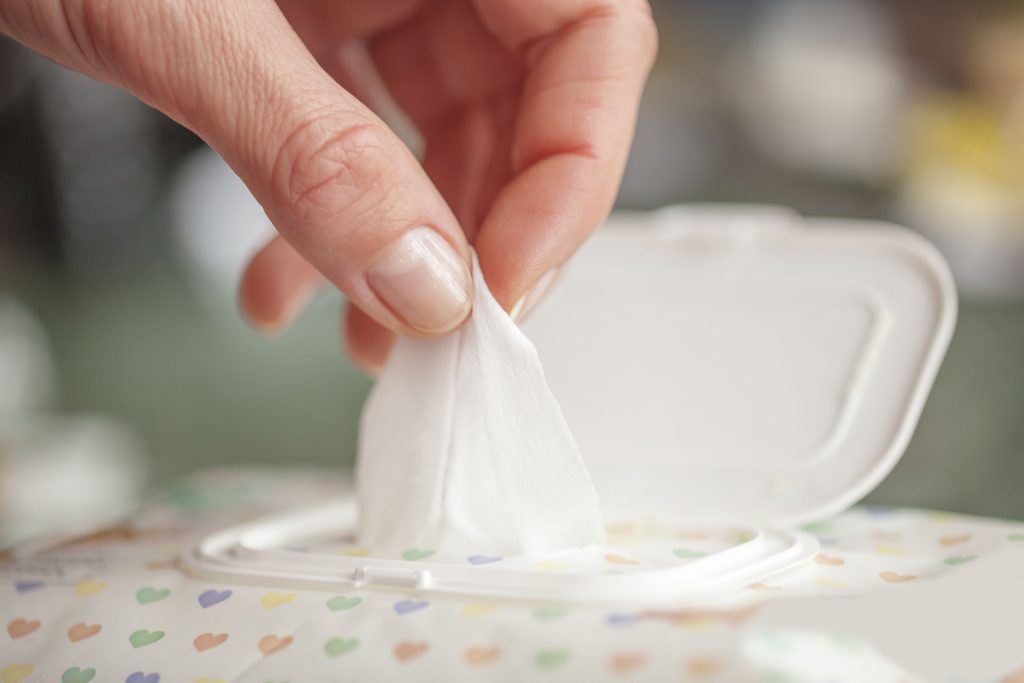 When buying baby wipes, there are essentially four things to consider: price, ingredients, quality and environmental impact. Once you decide what is most important to you, you can weigh your options and choose accordingly.
Cost of Baby Wipes
Of course your new addition is priceless, but let's be honest, caring for a new baby can get expensive. Prices of baby wipes will vary according to brand, size, quantity and type. Name brands will be more expensive than generic. Organic wipes will tend to be more expensive than non-organic.
Wipes come in a variety of sizes and quantities. Just as with other household paper products, pay attention to the quantity and size of wipes. Some wipes are made to be easily portable, so they can be stashed away in diaper bags or glove compartments. These types usually contain less wipes, so while they might be cheaper, they may not last as long. Similarly, some brands are thinner than others which keeps costs down, but sometimes at the expense of quality.
If price is a concern for you and your family, consider buying in bulk. Like with groceries, buying in bulk can result in deep savings. You can find baby wipes in big box stores like Costco and Sam's Club. You can also shop for baby wipes in bulk online. Online retailers like Amazon, may have more selection but don't forget to factor in shipping costs (definitely worth having an Amazon Prime membership).
If you'd like to know a ballpark estimate of the cost to buy baby wipes for one year, we created this calculator to help. But talk about ballpark, there are a LOT of variables when it comes to figuring their cost. How many do you use for each change, do you buy the expensive natural variety or are normal wipes good enough, do you buy one pack at a time or buy in bulk, and do you – like me – end up using them for lots of other cleaning jobs besides babies? But a good rough estimate is $20 per month per baby.
There is definitely a brand if baby wipes to meet your budget. However, price depends on a variety of other factors. Before you run off and buy the cheapest (or most expensive) wipes, it's important to understand some of these other factors.
Ingredients – What's in Baby Wipes?
While all baby wipes are designed to clean up messes, how well they clean depends on their ingredients. You'll find baby wipes designed to help with all kinds of common problems that can plague babies — from rashes to eczema to sensitive skin.
Even if your baby does not have sensitive skin, if you're concerned about what you put on his or her skin, look for baby wipes with minimal ingredients. The more ingredients listed, generally means the more chemicals were used to make them. Baby wipes are regulated by the FDA under the category "cosmetics."
Also be mindful of advertising that claims wipes to be all natural or with no added chemicals. Terms like "dermatologically tested" and "hypoallergenic" are marketing words and can be used quite liberally. Even with a "no harsh ingredients" label, baby wipes can still contain harmful chemicals.
The best way to know how natural or chemical free wipes are, is to read the list of ingredients. Avoid these chemicals that are sometimes found in baby wipes: formaldehyde or formaldehyde releasing chemicals, fragrance, parabens, triclosan, sodium lauryl sulfate (SLS or SLES), and polyethylene glycols (PEGs) among others.
List of Natural Baby Wipe Brands
WaterWipes Sensitive Baby Wipes
Aleva Naturals Bamboo BabyWipes
Pampers Sensitive Baby Wipes
Amazon Elements Baby Wipes
Babyganics Face & Hand Baby Wipes
Huggies Natural Care Unscented Baby Wipes
Natracare Organic Cotton BabyWipes
Pampers Natural Clean Baby Wipes
Quality
Along with price and ingredients, baby wipes will vary in quality. Thicker wipes will be more durable and likely will mean you will use less. The thinner the wipes, the more you'll have to use. The size of each wipe can also vary but should be listed on the packing. By paying attention to the dimensions and the quantity in each pack, you'll get a better understanding of the quality.
It's difficult to know exactly how many baby wipes you'll use, but you'll probably find you use more than you think. Most parents end up using them for more than just diaper changes as they come in handy for all kinds of spills. If you do end up using them for more than just diaper changes, you might find extra thick wipes are more effective. As babies grow, they poop less. In the first few months, babies will likely dirty between 6-10 diapers. Assuming you'll use one to two wipes per diaper change, you'll go through 10-15 wipes per day.
Another thing that may seem trivial but can actually make a difference is the shape and material of the container the wipes come in. When you're in the middle of a nasty diaper change and your baby is squirming out of reach, you want to get in and out and quickly as possible. Wipes with flip tops are designed to conveniently open with one hand and dispense wipes that tear easily. The hard, plastic containers are generally refillable. Wipes that come in soft plastic bags may fit into a diaper bag more easily, but the bag can make a loud crinkly sound. If you're fumbling with the bag in a middle of the night diaper change, the crackling noise could disturb the baby.
My own personal diaper brand is Member's Mark from Sam's Club. My wife and I never bought another brand again after trying them. They are strong and have just a slight bit of roughness to them that allows them to grip and clean up messes of all types. We even stopped comparing prices because the Member's Mark diapers were so much better than any other brand. We were going to buy them regardless of price. (Recently I checked simply out of curiosity and they are just 2 cents each – about the cheapest you can find!)
Environmental impact
Because you will be using hundreds of disposable baby wipes before your baby is potty trained, environmental impact is another factor to consider when choosing baby wipes. Some brands now make biodegradable or compostable wipes, while others now make flushable wipes.
All of these types of wipes are better for the environment as they will not end up in a landfill. Flushable wipes can also feel more hygienic as they won't end up in your garbage, where pets and babies can accidentally get into. They also reduce lingering unpleasant smells.
Other types of environmentally friendly wipes are those made with sustainable ingredients like organic cotton and bamboo.
If environmental impact is a concern for you, there are well known national brands to choose from or small companies continually improving and updating the ingredients they use, and how they manufacture and ship their wipes.
DIY Baby Wipes
If all of the above are priorities, you may want to consider making your own wipes. Making your own wipes allows you to control what ingredients and materials you use, which will impact both their price and how environmentally friendly they are.
I promise, it's not as difficult or time consuming as it sounds! There are thousands of recipes out there but they all essentially contain some kind of cloth or paper towel, cleansing soap, and an oil to nourish the skin.
Some benefits of making your own baby wipes.
You can reduce your environmental impact by choosing reusable cloth wipes instead of disposable paper products.
Even if you do use disposable paper towels, you can better control quality and make different sizes.
You can control exactly what is in them.
Some cons of making your own baby wipes include:
It takes more time to make your own wipes.
They will get moldy and don't last as long (1-2 weeks).
It may take a bit of trial and error to find the wipes you and your baby like best. If you do find wipes to be irritating to your baby's skin, consult your pediatrician. Your pediatrician will be able to offer recommendations if your baby is especially sensitive.